Do you wish for me to put my messed up version of the giant picture?

One day I was very bored and decided to... I'll get to the point. I edited the picture below to be very bizarre. The examples include Gaara as a smiling clown and pirate Sasuke. If you want to see the results, contact me.
What's Teen Titans?

Teen Titans is a show based on a comic book. The team includes Robin the Boy Wonder, Cyborg, Beast Boy (A Changeling), Starfire (an alien from Tamaran), and Raven (A half demon with telekinetic powers). I highly reccomend it.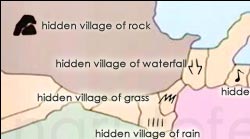 Part of Map of the naruto world
YES, it is true. I made a page full of things for no reason... what's wrong with that???